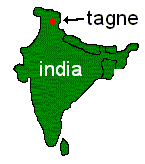 The Mountains
Tagne (6,111m) is situated in the Lahaul and Spiti region of the Indian Himalaya. It was our main objective because it fulfils the following criteria:
It is a previously unclimbed peak in excess of 6000m. (Neither the Alpine Club's Himalayan Index nor the Indian Mountaineering Foundation have any records of a previous attempt to climb Tagne.)

The Lahaul and Spiti region is not usually affected by the Monsoon.

Access to the mountain is straightforward, and the region is an established mountaineering destination.
Sagar (6,030m) was chosen as our secondary objective after a thorough reconnoitre of the valley, as being the most technically feasible of the other 6000m peaks.
Tagne and Sagar are part of a relatively unexplored range of mountains covering 800 square kilometres north of the Spiti valley. Most of the maps of the region are based on survey data dating back to 1851, so much of the information we have comes from satellite photos, some sketches from a trek that skirted the area in 1955, and photos taken by modern tourists. Trekkers often pass the area: the Chandra Tal lake at the foot of Tagne is a popular destination for them and for jeep safaris, but there is no record of climbers venturing high into the mountains to the east of the Chandra river. One expedition of which we were unaware until our return was Oxygen 2000, which made the first ascent of a c.5800m peak towards the mouth of the same valley in which we were based.
The Himalayan Index gives a number of heights for Tagne (6,404; 6,113; 6,133 etc.), and the Leoman's map we used gives 6,111 - it now seems likely that the true height is close to this last, meaning that Pt.6250m (adjacent to Sagar) is probably the highest in the range.
© Copyright Steve Jolly 2001.