Dan's Diary
Day 6 - Tuesday 3rd July 2001
photo © 2001 dan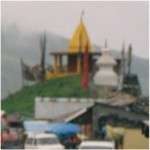 A Chorten on the road near the Rohtang Pass
It was finally about 8am when I could sum up enough energy to get out of bed. My alarm had gone off at 7:30am but I had very quickly drifted back to sleep. I wasn't feeling too good. The pain in my head had gone and a new one in my stomach had developed. I tried to relieve the pain by going to the toilet but this only confirmed what I had feared. I had the loose bowel syndrome, otherwise known as diarrhoea. It had come a day or two after the others had first experienced it, and I was beginning to think I had avoided it, but this obviously wasn't going to be case.
I didn't feel like eating and nor did Jon so we stayed and packed while the others went to the dining room for breakfast. Packing was a slow process. I felt drained of energy and didn't really feel like doing anything.
We settled our bills and emptied our room, stocking up on the toilet rolls. The bus, waiting outside the front of the hotel was already loaded with our Base Camp equipment and supplies. We added our rucksacks to the ever growing pile on the back seat.
photo © 2001 dan

A misty view up the Chandra valley
We left the hotel at 9:40am and drove up through Manali. We frequently slowed down to allow our porters, who were waiting outside their homes by the side of the road, to jump on board. We stopped on the far side of Manali so the chef could pick up some fresh produce. We were soon on our way again, across an old bridge, the river raging below higher than ever, because of the heavy rains we'd had overnight. We drove past a yellow sign, which said "Be gentle on my curves" in big black letters. Why don't we have signs like that in England, I wondered. All we get are black stick men and word S L O W painted on the road. We passed through a small shanty town, where people were going about their daily jobs in the light rain which had started to fall. A mechanic was changing wheels on an auto-rickshaw, a shopkeeper was setting up his shop front and a woman was doing the washing by the side of the river. Above the village many people where building dykes and walls by hand to stop the river eroding the road and their homes. Further upstream there were the remnants of buildings which hadn't been so fortunate. Stone walls, some two stories high and still with stairwells attached, sat eerily on bars in the middle of the braided river. The river had obviously changed its course over the years, destroying the buildings that were in its path. It wasn't long before we were in the cloud and all views were lost. Occasionally the mist cleared, partially revealing strange looking evergreen trees. Heavy winter snows had broken off all the lower branches, leaving a 100ft high main trunk with a few new spindly branches right at the very top.
photo © 2001 dan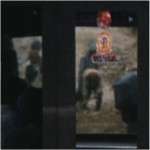 Road workers seen through the windscreen
The bus stopped at 10:56am, having ascended to 2760m, for everyone to empty their bladders. Steve got out with a bog roll and an evil grin on his face. He disappeared down the slope never to be seen again. No not really. He did return but only after we had waited for what seemed like eternity. We passed some more signs "Accidents are prohibited on this road" and "Do your dozing in bed". The road up to the Rohtang Pass deteriorated as we got higher: the tarmac became heavily potholed and was replaced in sections by gravel and dirt. We zigzagged backwards and forwards winding our way up the valley. We shared the road with jeeps carrying Indian day-trippers up to the pass and goods trucks. Quite often we would pass a jeep which had stopped to let those inside stretch their legs. When you saw the number of people crammed into each jeep you soon understood why they needed to stop. It was common for there to be three adults in the front, four in the back facing forward and four in the back facing rearward, with three or four children sitting on people's laps. Several small shacks by the roadside had fur coats and hats for hire mainly for the many Indian tourists who had come unprepared. We stopped for tea at a dhaba before the final climb up to the Rohtang Pass, zigzagging backwards and forwards up through a massive boulder field. The twisted and tangled wreck of a yellow bulldozer was seen down the slope, having obviously fallen off the road. It served as a grim reminder of how dangerous the road could be.
photo © 2001 dan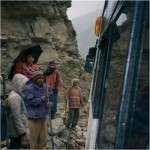 Road workers watch us pass
The Rohtang Pass (3,978m) was bit of a disappointment. It was in cloud so there were none of the spectacular views that were described in the guidebook. It was packed with jeeps and cars all full of Indian tourists. The tourists were all crowded round a small hollow set back some hundred metres from the road. It contained the last remaining patch of dirty snow that we could see. For most of these people it was the first time they had seen snow so you can imagine how excited they all were.
On the other side of the pass the road descended and weaved endlessly backwards and forwards on itself. The road deteriorated further as we dropped out of the cloud. Dirt and rocks had washed down the hillside and now lay on the road in places. On one bend, a retaining wall had failed and lay scattered about on the hillside hundreds of feet below. The coach passed with not much room to spare. Further on some men with pick axes were trying to flatten a section of road onto which debris had fallen from a road cliff. Two men worked while the other ten looked on.
Around one of the hair-pin bends, we came across a hold up. At first I thought a vehicle had got stuck and was blocking the road. I soon found out the real reason. A dozen Army trucks were coming up, and since the Army has priority over every other road user we had to get out the way. We pulled off the side of the road, but the third truck to come up got the angle all wrong. He wedged his truck between the cliff and our coach. We were forced to reverse back up the hill and pull off onto a grassy patch which fast became a car park as more vehicles came along the road and joined us. We eventually got going again, descending down into Gramphu. There we took the Chandra Tal road for no more than a kilometre before we reached the place where we were going to camp.
photo © 2001 dan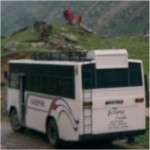 Unloading the coach at Gramphu
We unloaded the coach and the porters and chef carried the bags the short distance up a mound to where we were to set up camp. They would often put a 40kg kit bag and a 28kg rucksack on their back at the same time. Wanting to help I took some bags, but there was no way I was even going to try and compete with them. With everything out the bus, the driver turned it around and left us, once I had tipped him. The tents were going up thick and fast. Jon and Narinder wanting to help tried to put one up, but got stuck when they found the poles were different lengths. Sonam, our sirdar, laughed and came and showed them what they were doing wrong.
Rahul joined us to say goodbye and wished us good luck. He had driven a very bumpy 50km to the Chandra Tal and back from Gramphu and was now heading back over the Rohtang Pass to Manali. We gave him a carrier bag he had left in the hotel, but they turned out to be Sita (now known as Eco Adventures) T-shirts: gifts for us.
photo © 2001 dan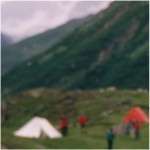 Playing cricket at the campsite
The rain had ceased while we were putting the tents up, but another shower soon came along forcing us to shelter in the mess tent. I knocked in the cricket bat. Rahul had bought us a full size bat and stumps and two cricket balls. All we were after was a kiddies bat and a tennis ball, but in India they take their cricket seriously. Tea and biscuits were brought to us in the mess tent at 4:45pm. Then it was outside to play cricket, if you can call it that. The bat was fine, the ball bounced and the stumps stayed upright. There was even grass on the wicket. So what was the problem I hear you say. Well despite clearing the crease of large rocks small ones still littered it. And as soon as you got into the outfield, you had slopes, streams and a jungle of boulders to content with. Not only this, the Indians bowled spin at us. I don't think we realised what we'd let ourselves in for. Andy, still not very well, was fortunate enough to stay in his tent. I managed to jar my knee when bowling, but this didn't reprieve me, I was still called upon to field.
Soup was served at 6pm in the mess tent. We all gathered, sitting on the folding stools that had been provided. I wasn't feeling too good again. I don't know whether it was running after that cricket ball at high altitude or whether it was repercussions from that morning, but after several visits to the toilet tent I didn't feel any better. I forced some of the chicken curry with curried veg and rice down me, but before I finished I just had to go and lie down. Bed followed very soon.