Dan's Diary
Day 13 - Tuesday 10th July 2001
photo © 2001 dan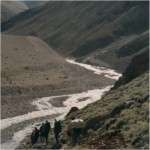 Heading off up the Tokpo Yongma
Cups of tea were brought round at 6am. Tired, I fell back to sleep. The next thing I knew, our bowls of washing water were being brought around and it was 6:30am. I drank my cold cup of tea before getting up and packing. Breakfast was eaten at 7am. On the menu was muesli, roti, scrambled egg and fried tomatoes. A large scab was noticeable on the top of Jon's chest. He said it was from getting sunburnt the previous day while wearing a v-neck T-shirt. Andy never failed to amuse me with his bizarre reasoning and this morning was no exception. He claimed that he had become dehydrated as a result of sweating in the night. Was this a mild form of paranoia against dehydration and altitude sickness? The previous day he had blamed the Leki poles for his dehydration. Because both hands were on the poles, he had argued that he didn't have any hands to drink with. Andy still failed to grasp the idea of emptying tents before breakfast so the porters could take them down. I was going to say something to remind him but then realised it was the last day that this would apply as the tents would remain up at Base Camp. Andy was also one to take his morning wake-up cup of tea into his tent, leaving the mug there when he'd finished. The porter who came round to collect the empty mugs would not be able to find his and so we would be one mug short at breakfast. Andy would arrive last for breakfast complaining that there was no mug for him.
Alan told me I had twenty seconds to vacate the toilet tent otherwise something nasty would happen. I remembered that he'd recently been suffering with regards to lose bowel syndrome and didn't wait to see if the threat was real or not. I hurriedly finished and exited the tent, leaving it for Alan. Some five minutes later Alan emerged from the tent having been unable clear his system. He had rushed me for no reason. I would get him back for this one. At 8am Andy headed off in the direction of the toilet tent with a new toilet roll. This was good news. I thought the one each we'd been given had to last the whole of the five weeks. A few minutes later it dawned on me. Had Andy raided our supply trunk and taken a toilet roll from the supply reserved for when we were on the mountain? There was a lot of uncertainty about where we were going. Only one horseman knew where the camp was. He had taken a group of twelve people up there the previous year but they had failed to climb anything. They'd had to ferry load their bags part of the way, as the path got too difficult for the donkeys.
photo © 2001 dan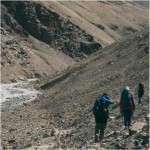 Just round the corner from our (eventual) base camp
Jon and the lead porter took down Andy's tent. We left camp at 8:20am walking along the dry riverbed before taking a low path across scree and into the Topka Yongma valley. It was very dusty. I know Nikwax had said that their product might alter the colour of your boots, but I hadn't realised it would alter it so much. The dust stuck to the wax and then wouldn't wash off because it was waterproof. Before long my dark brown boots had turned a golden sand colour. Andy was still moving slowly and we were soon stopping so he could catch us up. The early morning cloud started to break up, allowing the rays of sunlight to warm up anything in their path. As we walked further up into the Topka Yongma valley, the path undulated up and down along the bottom of a scree slope. We crossed a small stream, which cascaded over the screes to join the river in the valley bottom.
After a brief stop we got going again at 9:35am. Andy expressed his frustration at not knowing what was going on, but really there was nothing new to know. We were still trying to find the campsite that the previous years group had used, as described by the horseman. Sonam and the porter weren't sure how far along the valley it was, but they decided to keep going. We followed the fading path as it ascended a steep scree slope before traversing under a cliff face high above the river in the bottom of the valley. We crossed a narrow gully and continued on some inclined rocky ledges until we came to easier ground. A stone walled shepherds' shelter and some semi-flattened patches of ground were found midway up the grassy slope at 10:50am. This was obviously the place where the last year's expedition had set up their Base Camp; the flat excavations being where tents had been pitched. I didn't like it much as a Base Camp. It was on a slope for a start, and high up the side of the valley. Narinder had a look for running water but the gullies were dry. A Base Camp had to have running water. Jon and Narinder went to the next ridge to have a look for the way up the valley and to see if there was a better site for Base Camp. The rest of us waited for Steve and Andy who were still making their way up slowly. We watched as Jon and Narinder disappeared behind a spur. Some fifteen minutes later they emerged 400ft below us next to the raging river, but without their rucksacks. Had they found somewhere to camp and left their rucksacks there? They walked down by the river, struggling to stay on their feet before ascending the valley side back to where we were. After getting their breath back Jon explained how the descent was steep and the river ran through a gorge which wouldn't be easy to pass. There was a big discussion about what we should do. There was no way we would be able to ferry load everything up to where we were, then down the steep spur and through the gorge. Crags above us looked impassable and prevented us continuing up or along the valley side. The horseman came up and confirmed that we were where he'd set up Base Camp the previous year and he showed us where they had got water from, but with less precipitation this year, it was dry.
photo © 2001 dan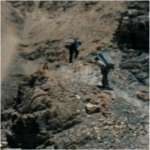 Sonam, our sirdar, and a porter heading for Upstairs
Narinder, Jon and Alan took their lunch from Sonam before leaving to try and find a way to get past the gorge at 11:15m. Jon and Narinder would also retrieve their rucksacks from down by the river. The rest of us headed back down past the rocky ledges and cliffs and down the steep screes to where the donkeys were waiting. While Steve and Andy rested on the screes I sorted through the kit bags for all the things we didn't want to take to advanced Base Camp. The donkeys would return down-slope and down the valley, to a spot Alan had noted on the way up as all right for Base Camp. Meanwhile the plan was for the porters to ferry load our mountain food and equipment up to the shepherds stone shelter. We then had the problem of the food in the trunk. I emptied my large rucksack. Just as I had finished Sonam decided he would take the trunk up so I set about packing everything back into my rucksack. Of course in my rush not everything would fit back in so I had to put some things in my small rucksack. Three porters had started on their way up the scree slope, each with a 30-40kg kit bag on their back. Sonam and I followed them. He with a metal trunk full of provisions tied to his back and I with two jerry cans full of kerosene. Steve, Andy, the horsemen and the donkeys all headed down to start setting up Base Camp. There were several rests on the way up by the porters, who must have been suffering with such heavy loads but didn't show it. I was gasping for air, as the hard work required more oxygen, but the thin air at 4300m wouldn't give it. I found it difficult to cross under the cliffs and along the narrow ledges with the kerosene in my hands. There was no room for error. I had to balance perfectly. I had no free hands to grab the rock with. One slip or trip and I would fall, or I would have to drop the kerosene. I tried to think what I would do. The kerosene was required to cook on and it would be a huge loss to the expedition, but I decided if it came to that I would have to let go. It would certainly fall down the screes into the gorge. It would probably split the plastic container and might even ignite leaving a trail of flames down the valley side. I didn't think about it anymore, concentrating instead and making sure I didn't make a mistake.
photo © 2001 dan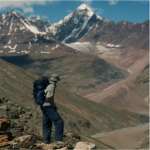 Alan admires Mulkila
We arrived at the stone shelter at 12:10pm and deposited our loads inside. The porters sat on the stone wall recovering, while I got out a blue tarpaulin and covered the bags. Sonam placed rocks on top so it wouldn't blow away. We then had a well-earned rest before heading back down, picking up our rucksacks from the screes and descending back down to the river. Judging by the continuous trail of donkey poo I passed on the path on the way down, I hadn't been the only one to think the path was a bit hair-raising. The larger tents could be seen, already erected on a small patch of thin grass down by the river. Five minutes later and we had crossed the scree and were at the camp. I ate what was left of lunch. Andy and Steve had already helped themselves, and Jon, Alan and Narinder had taken theirs. I sat on a rock eating peanut butter rotis, listening to the awesome power of the thundering river. Boulders could be heard smashing into one another as they rolled downstream. I could only guess at their size as the murky grey waters hid the activity, but I knew they weren't small. Steve helped Nadir and Sonam clear stones from a patch of grass so that there was a level area on which to pitch a tent. After I had finished eating, I joined in and got some sediment from the riverbed to fill in the big holes left by the removal of the larger boulders.
The horsemen came and said goodbye at 1:30pm. We shook their hands and thanked them, giving them a 200Rs tip each, for which they seemed pretty pleased. Not long afterwards, Jon, Alan and Narinder could be seen returning. They were descending towards us across the screes, but were still some way off. They were earlier than I had expected. Was it good or bad news they were bringing, I wondered? I figured it must be good, for if they hadn't found a way through the gorge then they would have explored other ways until they had found away up the valley to see if there was anywhere to camp. I was wrong. There was no easy way along by the side of the river. Buttresses ran right down into the river from cliffs above and they had had difficulty getting round them at river level. In the end they gave up, exhausted by the challenging terrain and the midday heat. Some positive news was brought back. Alan thought he could see Tagne and it was a snow dome summit.
The rest of the tents were put up once pitches were cleared and levelled. The porters were busy excavating a pool for collecting drinking water upstream and putting up the toilet tent, downstream of the camp. We retreated to the shade of our mess tent, where Andy had laid for the past few hours. Our options were discussed, but we were left with few. Our best and only suggestion was to try and go high over the rocky buttress, as recommended earlier by the horseman.
photo © 2001 dan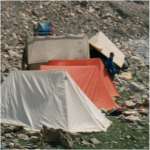 Base Camp at last!
The river had risen steadily since we'd arrived and was now only a foot or so away from the cooking tent. I planned to build a dam, which would stem the flow of water towards the tents. However the river was too high to do anything yet so I set about collecting together large rocks from the scree slope at 4:45pm. By the time I'd finished, I had a pile 5ft high, making a spectacular cairn. The others sat in the shade of the mess tent reading.
Green soup was served at 6pm with the customary peppered papadums. The previous few days we'd had the translucent watery sort of soup. There was no bulk to it, just perhaps a few bits of grated carrot or other unrecognisable lumps in the bottom. I gave up trying to guess what flavour of soup it was, noting the colour instead. So that is what I mean by green soup. Andy was suffering from stomach cramps and wanted to know what was causing them. Jon was reading the medicine book and discovered that glacial silt and dust can act as a laxative. Maybe this was why everyone kept visiting the toilet tent. I was sceptical. I had been eating rocks and silt for years and never I had to empty my bowels afterwards.
"You just keep on eating rocks ... and you'll be fine" Andy said with a sarcastic grin.
Some ten minutes later Andy came back from the toilet tent, eager to tell us his discovery. He had found that if you were to stick your arms out of the broken zip and hold a stone in your hands, then when you squat the rock acts as a balance and you don't fall over. I never tried it myself partly because I'd never had a problem squatting and partly because I didn't want to be caught with my pants down and my hands outside the tent holding rocks. How would you explain yourself?
Rice, dhal, roasted vegetables and mutton momos were brought for our tea, and pineapple rings for pudding. We paid Sonam for three porters, 200Rs per day for ten days. He came and told us that Nadir had decided to head off and one of the porters was staying instead. The porters came and said goodbye, as they would leave at 5am in the morning. We thanked them, shook their hands and gave them a 200Rs tip. I retreated to by tent at 8:10pm feeling bloated at having drunk too many cups of hot chocolate and tea.
© Copyright Steve Jolly 2001.